History and culture
Andalo - history and curiosities:MASO TOSCANA
Andalo is subdivided into 14 hamlets locally called masi; the Latin term mansus refers to a house with a plot of land, inhabited by people subject to feudal obligations. The local maso was characterised by the presence of several family units belonging to the same clan and residing in the buildings surrounding the original maso.
Maso Toscana is the oldest farmstead in Andalo, together with Maso Cadin, with which it was in peaceful competition for a long time.
Here we can admire the ancient arch, called Pont dei Perini, which is the symbol of the "giro dei masi" (roundabout) of Andalo. An arch of this kind, which allowed the ox cart to reach the barn on the second floor, was undoubtedly the property of a wealthy family.
At one time, the Imperial Road, which connected the Non Valley with the Giudicarie, passed between the houses of the Toscana farm. Even today, once you pass under the portico, you come to a crossroads: on the left you go down towards Cavedago and Spormaggiore and continue on to Valle di Non, on the right you go up to Malga Zambana and in the middle you continue towards Fai della Paganella. Near the Perini house, in ancient times, there must have been an inn for travellers along the historic road.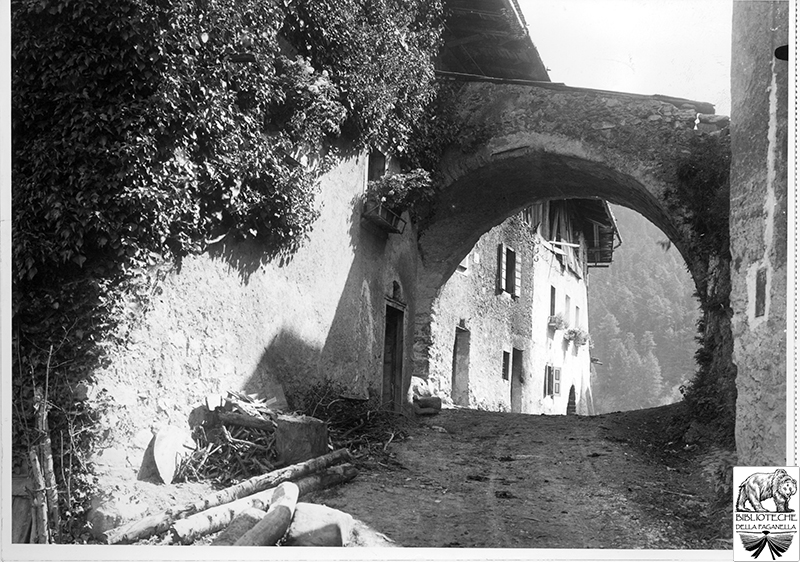 The houses of the past were built according to the ancient construction system: the ground floor and the first floor were in masonry, while the second floor was used as a hayloft and was built in wood, which is why fires were a constant risk for these people. On the ground floor there was space for animals and work places, while on the first floor was the actual living quarters. The windows were very narrow to keep the heat in the rooms, which obviously had no heating, but were therefore rather dark and poorly ventilated. The fumes from the kitchen often settled on the walls, turning them black.
The first families to live at Maso Toscana were the Toscana and the Zeni. In the house of the Toscana Zanchia family, a private cheese dairy was built, the Casèl, which the inhabitants wanted after the construction of a cheese dairy which they considered too close to Maso Cadin and too far away from them. The milk needed to make the cheese was stored in a farmstead called Bait del Lat, which was located a little further on in the locality of Cros.
The photograph shows Rina Dalmonego in the central square going to the "chjasel" with a companion (social dairy) to take the "seri" (the whey of the milk) to be given to the pigs. Source: Bibliopaganella.org - research by Erika Maines
Request information